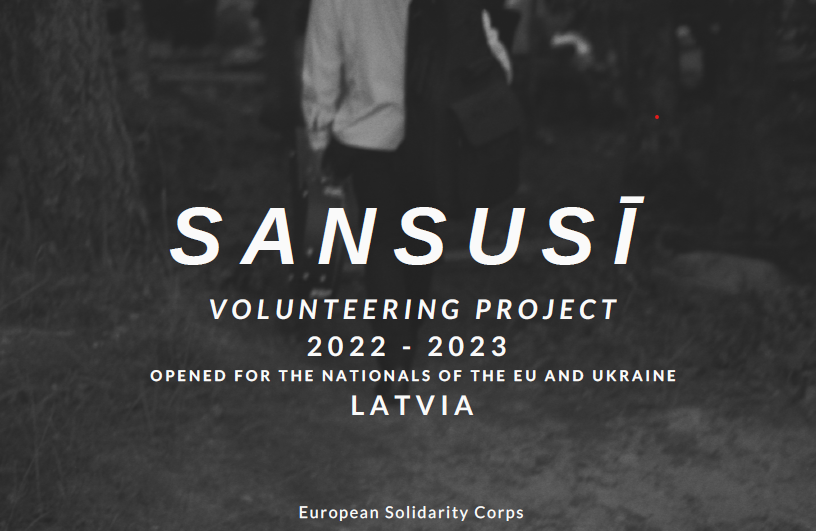 90-150 DAYS
LATVIAN COUNTRY SIDE
ART
CULTURE
COMMUNITY
BUILD
CREATE
SUPPORT
ENGAGE
Volunteer within a local
community, support residing
artists, improve surrounding area and create your own artistic, cultural and educational activites
_________________________
SANSUSĪ VOLUNTEERING PROJECT-SVP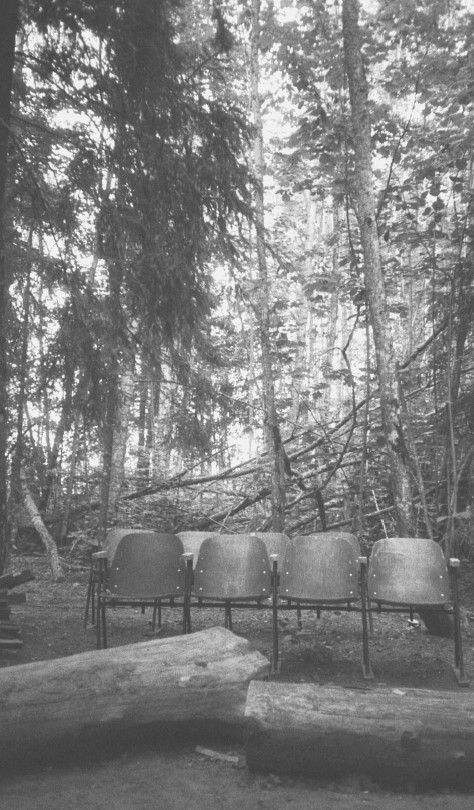 WHAT IS SANSUSĪ?
We support and promote contemporary performing art and music.
We introduce contemporary arts to new audiences. We educate our audiences through new experiences. We give artists the possibility to perform what they desire. We continuously rethink what an artist residence is. We grow towards community well being. We look for ways on how to connect and engage artists with communities. We improve ways on how art and culture can be made through the experience and exchange between an artist and another human being or collective.
We redesign what a concert or festival means. We look for new forms, shapes and spaces in artistic culture, production, design. We continue to re-arrange and re-create what we have found and developed. We learn to fill spaces with inclusive experience.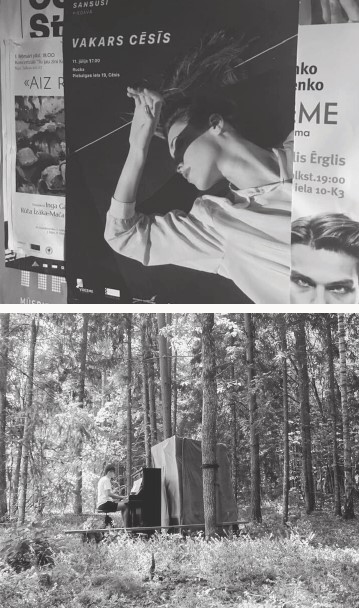 VOLUNTEERING IN SANSUSĪ

It can be great and hardcore at the same time. Our days can go by chilling with artists and supporting their creative or practical processes. They can also
be a non-stop building days for events till late night. Our evenings might end with jamming at bonfire or 20-min discos at midnight forest bliss.
The more you are in, the more you get.
EXACT
POSSIBILITIES
WITH US
Improving our space Susēja
Delivering workshops for the local community
Supporting residing artists
Creating your own art projects and productions
Educating others online about communities, volunteering
and other possibilities to be active and engaged
Taking care of the house and space around

IMPROVE SURROUNDING SPACE
Physical work to build and make the residence center better, more inclusive and just nice. It could be painting a wall or building a new room.
In winter time it is necessary to maintain the house – fueling the furnace and shoveling snow.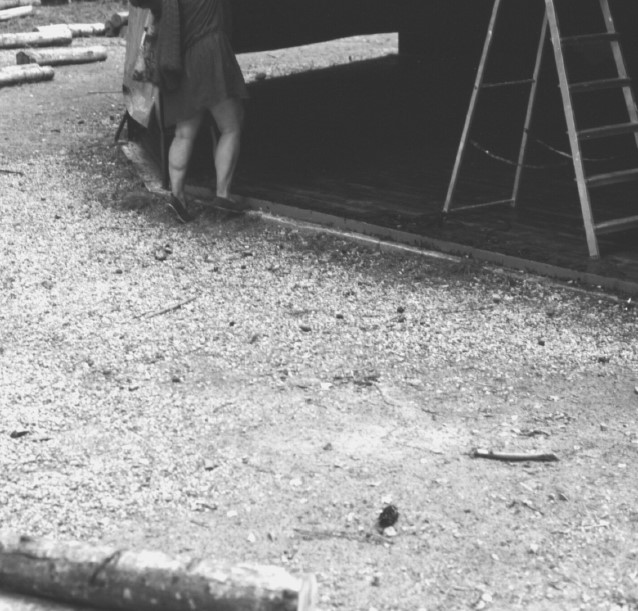 WORKSHOPS FOR COMMUNITIES
We work with three different groups locally – youth, elderly, and patients from the psychoneurological clinic. You can decide to work with these groups – either create a workshop for them or create a connection with them through arts. It is not a one-time thing. We look for commitment and care in this exact activity. We also know that this might not be for everyone. That's ok. There are many other things to do.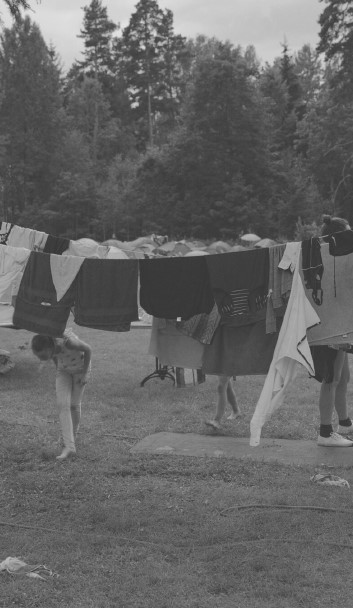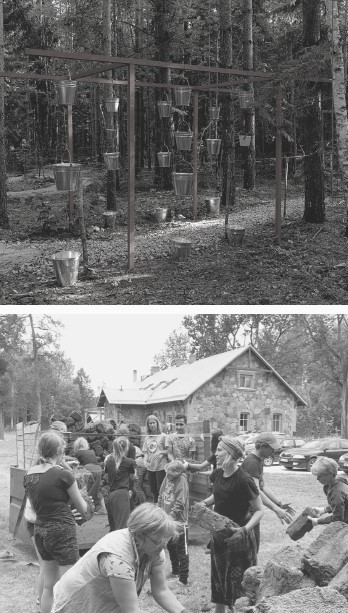 SUPPORT ARTISTS IN RESIDENCE
We usually have a couple of residing. Artists during summer and fall. They develop their ideas and work with local communities. They might need technical support. Or might want to cooperate with others. Or might need anyhting else. This truly comes in different forms and
shapes and cannot be predicted. They also might be people who don't talk or engage with volunteers or others. One year we were building an outside structure from peat blocks. It was beautiful fulfilling and exhausting. It's still with us. Slowly growing into a forest.
YOUR OWN PROJECT
We truly look for those who want to create. Either it's performance, theatre, poem, audio piece, sculpture etc.
There are a lot of forms. You can go solo or collaborate with those around you. Explore. Let surroundings bring more to you. Experiment. Find new ways for self expression. Practice. Share what you create.
P.S. You do not need to be an artist or identify as one to be able to create.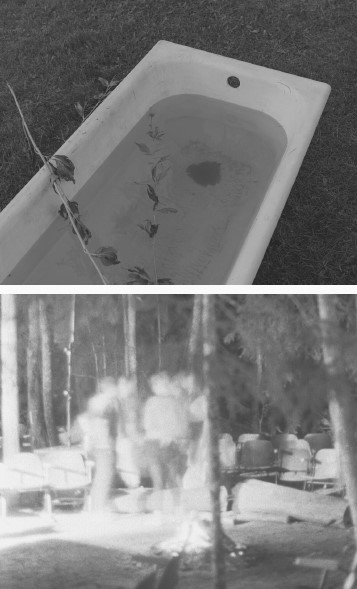 WE ARE LOOKING FOR PEOPLE WHO:
18-30 year old
from Ukraine or EU countries
motivation to learn, initiate and get involved in
the activities of Sansusī (artists residencies,
local community, contemporary arts festival,
other music & arts events)
education, experience or at least real interest
in the field of arts and culture
optional local volunteering experience in other
organisations
interest in social inclusion and civic society
being ok with flexible working hours
not afraid to try new things and learn (or at
least ready to try even if you are afraid!)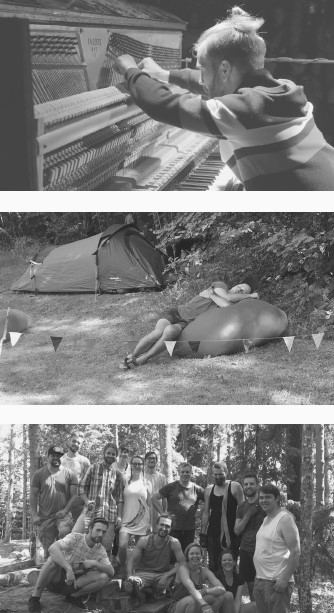 PRACTICALS – HOUSING
PRACTICALS – HOUSING
During your ESC project, your accommodation is fully covered by the program costs. The
place where you will live and spend most of the time is called Susēja. It used to be a guest
house. Now it's an artist residency centre surrounded by small forest. Usually 2 artists are in
the residency and hopefully you will have a chance to work with them.
The usual living conditions – there is a house where you will have a room, most likely you
will share it with 1-3 people as there can be several volunteers + some artists + staff
members.
There are 4 bathrooms and 8 toilets in the house. One big kitchen to cook and eat, common
working room, terrace outside. There is Wi-fi – not the strongest one, but it works.
We have projector, music system, stage lights, grand piano and probably we can get many
other things if needed. We also have a dome stage outside that can be used for concerts,
performances, theatre, dance, circus, practice and more.

PRACTICALS – TRANSPORT & INSURANCE
Susēja residency centre is 3 km away from nearby small town Aknīste (with nearest shops!). The furthest
community place is 4 km away where activities might take place. To these locations you can either walk or
take a bicycle. In case activities take place further away – for example we are creating an event in another
region of Latvia – we will cover your travel costs.
Before you arrive you will need to have European Health Insurance Card (EHIC) – except citizens of Ukraine.
You will also have Cigna insurance that covers all the medical costs planned or occurred during the
volunteering service.

PRACTICALS – FINANCES
Pocket Money
You will receive 4 €/day for your personal expenses.
Food
You will receive 5 €/day for your food expenses. We encourage cooking together at least once a day.
Travel Costs – arrival & departure
Travel costs from and to Susēja will be reimbursed and calculated using the official distance calculator from
Erasmus+ website. It's either 275 or 360 € both ways depending how far is your country of residence.
PRESS HERE TO APPLY
More questions?
Contact us via mail: rezidences@sansusi.lv
Check our website: https://sansusi.lv
And FB page:
https://www.facebook.com/sansusifestivals
SANSUSĪ VOLUNTEERING PROJECT-SVP